Description
AIN4-20mA Unit is a single-channel 4~20mA current analog measurement unit. It adopts the STM32G030F6 main control chip to communicate with the M5 host through i2c. Supports switching to internally or externally powered wiring via jumper caps. On-board power isolation chip and built-in op amp circuitry accurately measure external current sensors and ensure signal accuracy and system safety. It is suitable for power system equipment monitoring, motor control, energy management and automation, and industrial process control.
Features
STM32G030F6® 32-bit Cortex®-M0+ CPU
I2C communication
Supports 2 or 4-wire sensors, jumper cap switching
Built-in galvanic isolation chip
Support Arduino, UIFlow and other programming platforms
Includes
1* AIN4-20mA Unit
1 × VH3.96-4.0P
1*grove wire(20cm)
3*Jumper caps
Applications
Power system equipment monitoring
Motor control
energy management
Automation and industrial process control
Specification
| Resources | Parameters |
| --- | --- |
| MCU | STM32G030F6(64 Kbytes of Flash/8 Kbytes of SRAM) |
| Power isolation chip | HCNR200 |
| Op amp chip | SGM321YC5/TR |
| I2C address | 0x55 |
| Operating temperature | 0-40°C |
| Product Size | 56*24*12mm |
| Package Size | 136* 92* 13mm |
| Product Weight | 8.2g |
| Package Weight | 15.6g |
Related Link
Schematic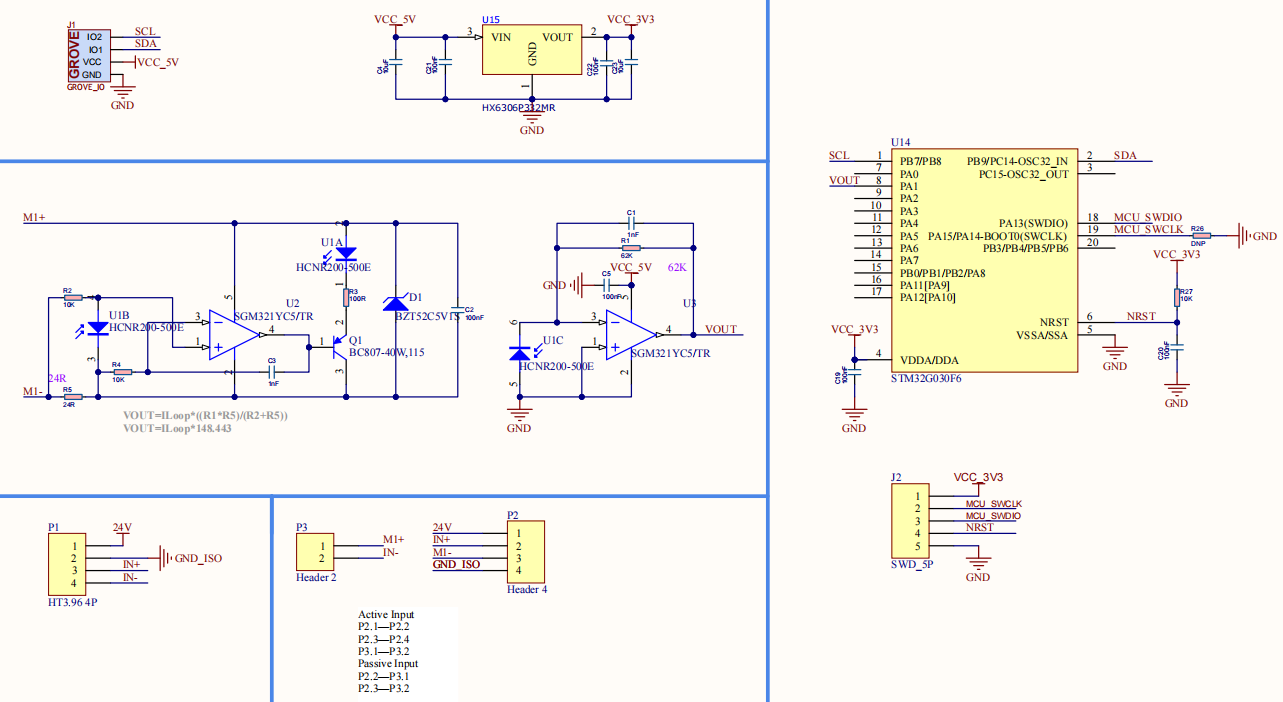 Jumper cap connection and instructions
If your current sensor already has an external power supply, the jumper cap is connected as shown on the left
If your current sensor does not have an external power supply, connect the jumper cap as shown on the right, and connect the interface of AIN4-20mA Unit to the appropriate external power supply as needed.
Examples
Arduino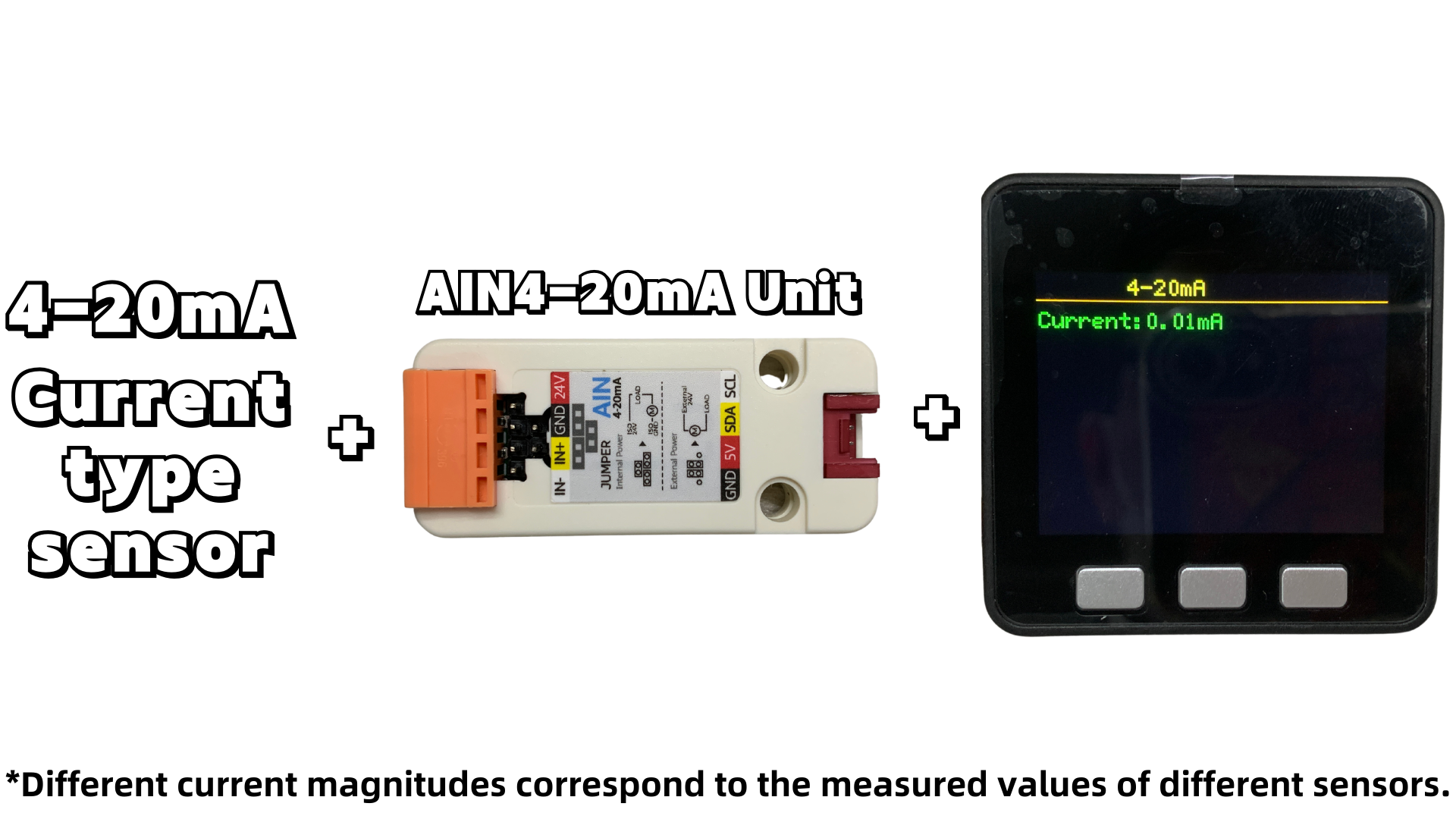 UIFlow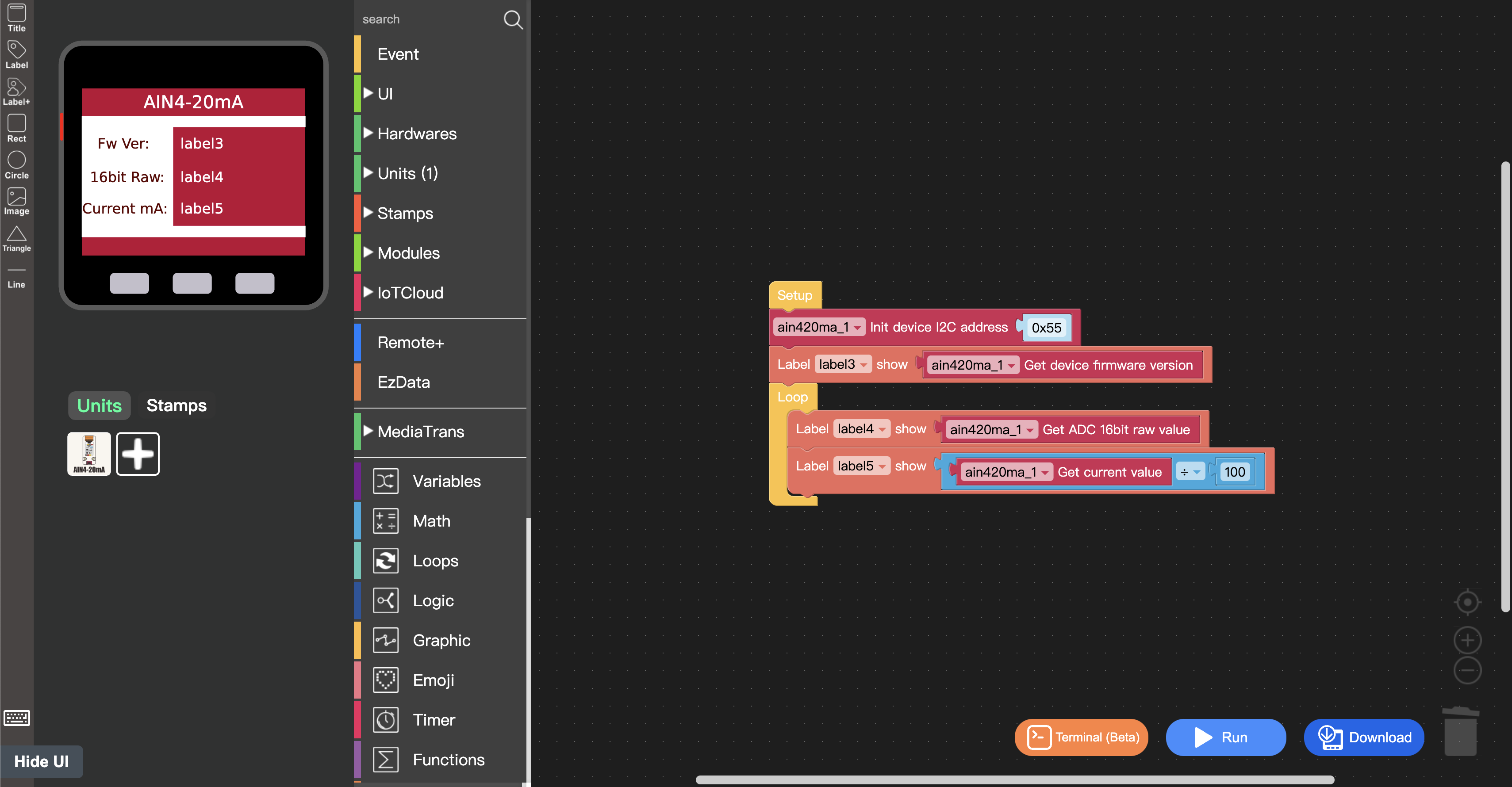 UIFlow Blocks



Get device firmware version

Set device I2C slave address

LEARN AND DOCUMENTS