Description
CM4STACK is an integrated microcontroller built around the Raspberry Pi Compute Module 4. It harnesses the capabilities of the CM4104032 module, boasting impressive features such as built-in WiFi, 4GB of memory, and a spacious 32GB eMMC storage. This compact and efficient controller is designed to streamline projects and deliver exceptional performance.

CM4STACK features a vivid 2.0-inch IPS-LCD screen with capacitive touch, offering a crisp resolution of 320x240. It also provides convenient connectivity options, including two USB3.2-A ports (pcie+ASM3042) and a versatile USB-C (2.0) interface that supports OTG and power delivery. HDMI, Gigabit Ethernet RJ45, and DC-JACK 12V @ 3A are also provided for seamless integration.

CM4STACK goes beyond the basics with its expandability and security features. It offers two HY2.0-4P expansion ports, providing I2C and UART interfaces respectively for easy integration of additional modules. It comes equipped with a built-in 2W speaker and AW88298 16-Bits I2S amplifier, ensuring high-quality audio output. It also includes a dedicated ATECC608B security encryption chip and RTC chip BM8563, bolstering data protection and real-time clock functionalities. To guarantee optimal cooling, CM4STACK features an active cooling fan and an aluminum alloy heat sink frame.

Designed with versatility in mind, CM4STACK supports various mounting options, including DIN rail, wall hanging, and screw fixing methods. This makes it an ideal choice for industrial automation, smart homes, and IoT applications. Experience the power and flexibility of CM4STACK and unlock new possibilities for projects.
To learn more about the CM4Stack boot configuration, visit CM4Stack Quick Guide (by Adam), or https://docs.m5stack.com/en/quick_start/cm4stack
| SKU | Difference |
| --- | --- |
| K127 | Paired with Japanese power adapter |
| K127-US | Paired with American version power adapter |
| K127-EU | Paired with European version power adapter |
Features
High-performance embedded system: built-in multiple powerful chips and interfaces, equipped with a 2.0-inch LCD screen and touch function, capable of displaying high-quality videos and images.
Multiple interfaces and functions: including antenna interface, 2W speaker, HDMI interface, USB-C (2.0) interface, USB3.2 interface, Gigabit Ethernet interface (RJ45), I2C interface, serial port, and DC power input port, supporting various peripheral devices and data transmission methods.
Security performance: equipped with a security authentication chip AW32901ID-KEY (ATECC608B), capable of secure data transmission and storage.
Clock function: equipped with RTC chip BM8563, capable of clock function.
Heat dissipation design: equipped with a heat dissipation base and heat dissipation fan to ensure stable system operation for a long time.
Includes
1 x CM4Stack
1 x CM4Stack Power Adapter (input:100-240VAC,output:DC_12V 3A)
1 x Hex key 2mm
1 x CM4Stack instruction manual
1 x CM4Stack base snap
1 x CM4Stack screw holder
Applications
Industrial Automation
Smart Home
Internet of Things (IoT)
Education and Development
Specification
| Resources | Parameters |
| --- | --- |
| CM4 Mainboard | CM4104032, processor: Broadcom BCM2711, quad-core Cortex-A72 64-bit SoC, clock speed 1.5 GHz, running memory (RAM): 4G, storage (eMMC): 32G |
| 2.0 inch LCD | screen with touch function and ST7789V2 controller |
| Antenna Interface | connector for an external antenna |
| Speaker | 2W audio output with AW88298 driver |
| USB-C Port | USB 2.0 port with OTG function, powered by MP8759 and AW32901 controllers |
| I2C Interface | inter-integrated circuit interface for communication with other devices |
| Serial Port | communication interface for transmitting and receiving serial data |
| AC Power Input | 100-240VAC ower input connector |
| DC Power Input | 12V/3A DC power input connector |
| Gigabit Ethernet Port | RJ45 port for connecting to a gigabit Ethernet network |
| USB 3.2 Ports | Two USB 3.2 ports with ASM3042 controllers |
| Aluminum Heat Sink | DIN-rail mounted heat sink with a built-in cooling fan (ME1502) |
| Download Button | button for entering download mode |
| HDMI Port | connector for transmitting high-definition video and audio |
| RTC | real-time clock module with BM8563 |
| SY8003 and ME1502 | Power management and control ICs |
| AW88298 | Audio amplifier IC |
| MP8759 and AW32901 | USB power delivery and type-C port control ICs |
| ID-KEY (ATECC608B) | cryptographic authentication IC for secure communication |
| ASM3042 | USB 3.2 host controller |
| BM8563 | Real-time clock IC |
| WIFI | 2.4 GHz, 5.0 GHz IEEE 802.11 b/g/n/ac |
| Product Size | 59*46*44mm |
| Package Size | 160mm*107mm*47mm |
| Product Weight | 118.8g |
| Package Weight | 353.4g |
Schematic
Module Size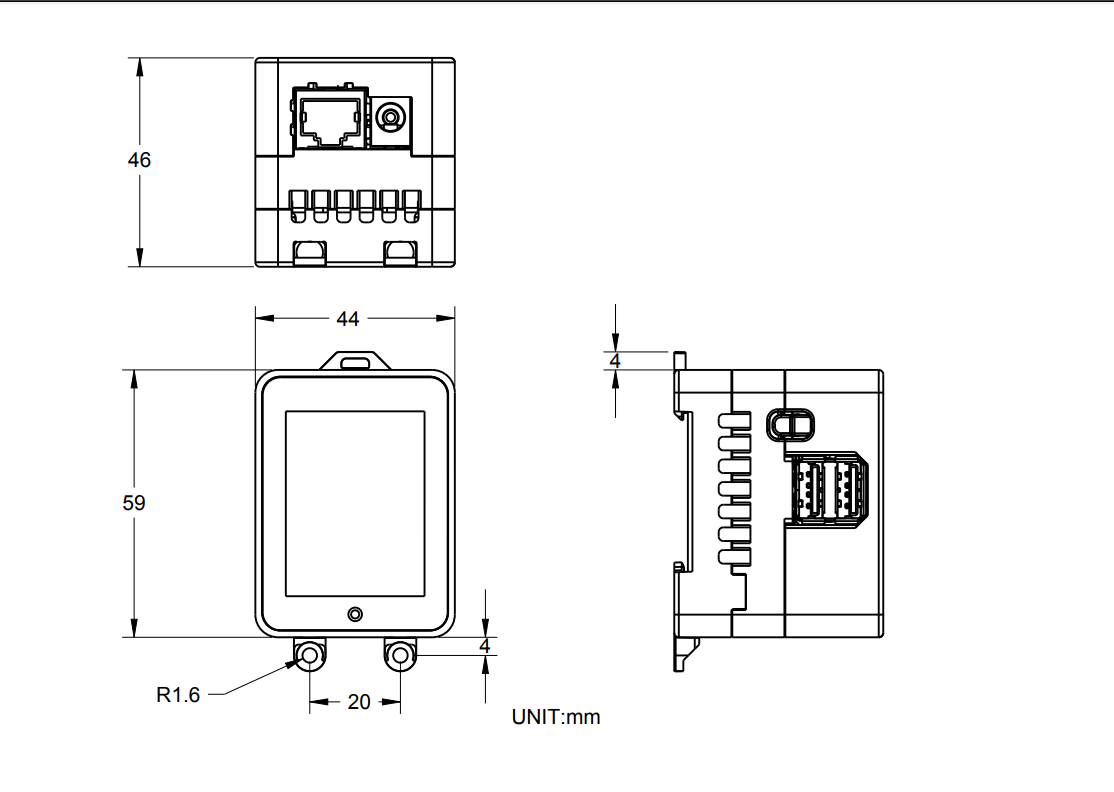 Permission
Powered By Raspberry Pi
LEARN AND DOCUMENTS