We've seen the number of COVID-19 related projects and contributors grow rapidly. So far these projects have been viewed by many unique users over the past year. In an effort to improve COVID-19 pandemic response,M5Stack collaborating with NYP (Nanyang Polytechnic) is a polytechnic located in Singapore in conjunction with ESPRESSIF on COVID-19 projects that helps people protect themselves.

The judging process for the M5Stack and NYP Project Based Learning Design Challenge takes place online due to the COVID-19 pandemic. M5Stack CEO Jimmy and the Vice General Manager of ESPRESSIF Stanza Wang as the main jury members judge the entries and give some suggestions on how to improve the project. Below are the winners projects in this challenge. We write this news hope more people discover these projects. All the projects will be published on Hackster.io.
1st Place
Covid Tracker
Covid Tracker is a device that aims to increase the efficiency of the checking-in process and also provide users with live data to avoid crowded areas and lower the impact COVID-19 has on our daily life by finding a balance between safety and comfort.

Click here to learn more details about the project.
2nd Place
Hand Hygienics
Hand Hygienics aims to reduce spread of Covid-19 through encouraging people to wash their hands thoroughly and properly. The team aim to solve the below problems.
Remind people to wash their hands
Ensure that soap, an essential germs killing ingredient, is available
Ensure that soap is used
Ensure that people washes their hand for at least 20 seconds
Show people the correct way to wash their hands

Click here to learn more details about the project.
Tap and Go
Tap And Go is a replacement for safe entry. It can decrease queue durations, and is more convenient.

Click here to learn more details about the project.
3rd Place
Automated Covid-19 prevention station at libraries
This project aims to combat COVID-19. The team aim to install a station in libraries. Visitors would have to pass through it before proceeding. The station would have the ability to control crowd, sanitize visitors, and display number of current visitors. This device is fully automated, where the number of people in the library would be controlled without the need of human interference. By limiting number of people and sanitizing them, the risk of COVID-19 transmission would drastically reduce.

Click here to learn more details about the project.
Hamster Project
The project use to track the amount of people going in and out of a specific place by counting and getting their UID on their whereabouts. Beside it is able to dispense sanitizer when anyone press button A. Hence limiting, controlling, sanitizing and tracking the amount of people in any public transport. It's a simple yet useful device that comes in handy.

Click here to learn more details about the project.
Q-Bot
We aim to build a robot that is effective in sanitizing surfaces without putting cleaners in harm's way.

Click here to learn more details about the project.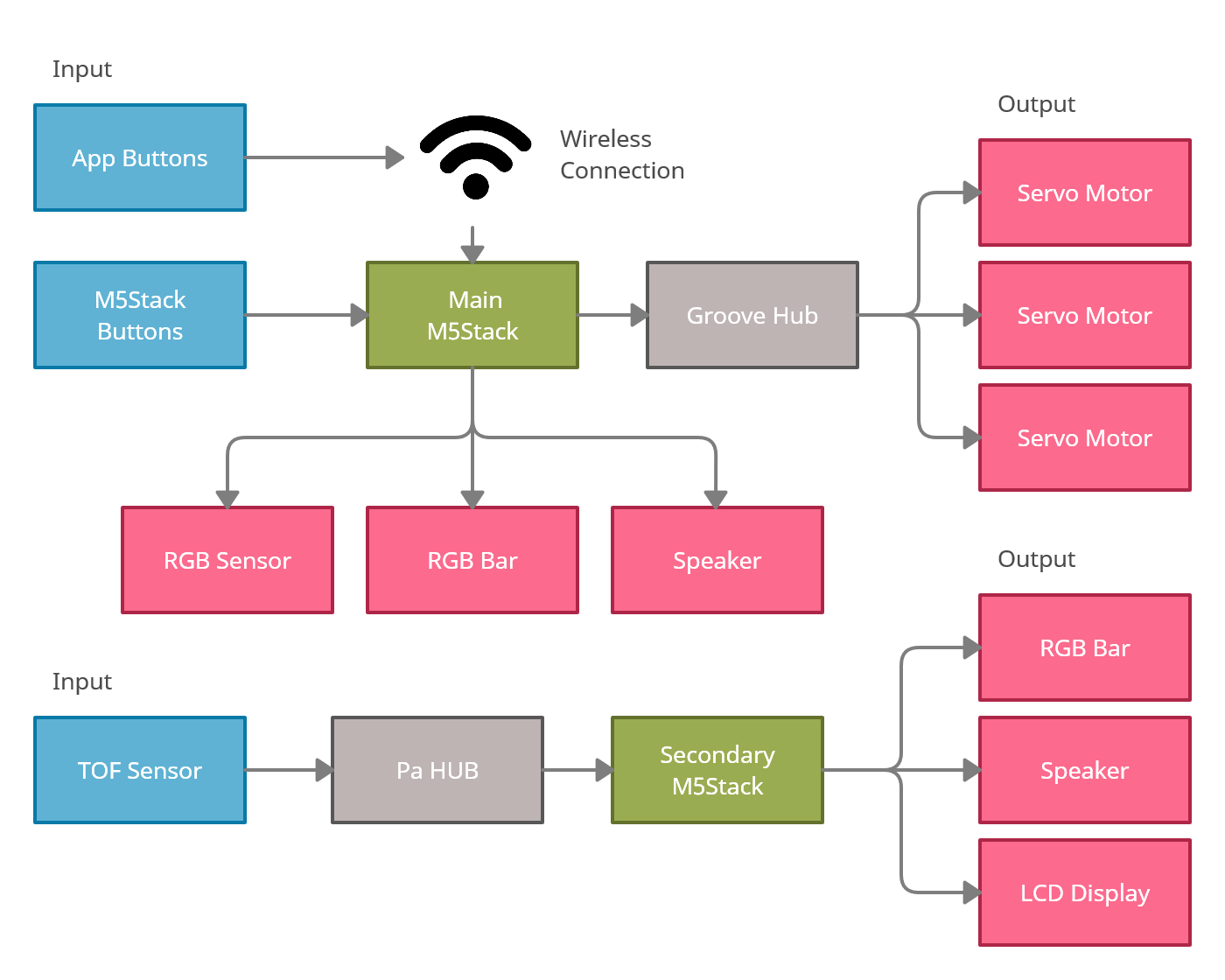 About M5Stack
M5Stack is a technology company based in Shenzhen China, specializing In the design, development and production of IoT development toolkits and solutions.

We are committed to providing fully functional, customizable and cost-effective open source IoT development toolkits and easy programming platform "UIFlow" and AIoT solutions for smart city, smart agriculture, commercial purpose, industry 4.0, robotics and STEAM education.

M5Stack is on a mission to "Quick & Easy IoT development", with the easy-to-develop devices and solutions, we can bridge the gap between development and end product, thus, to make creative dreams a reality!