The results of great inventions often seem simple, however, they can provide practical solutions to real-world problems.
This year 2021, M5stack is challenging innovative and entrepreneurial engineering, design professionals and recent graduates from around the world to design a solution to a real-world problem. Aiming to unlock the diverse creative potential of individuals seeking solutions to critical problems, the selected winner will be rewarded with a generous 100 pieces of M5Stamp Pico! In addition, the ability to follow the development of open source hardware, from coder to designer, from creator to inventor.
Many young people have dreams of changing the world and this campaign has been created to help them achieve," said Jimmy, M5Stack CEO and founder. "The call for entries not only provides strong project support for entrants' creative proposals, but also a platform to showcase and validate the value of their designs. The data shows that 65% of the international awardees were able to commercialise their creative solutions, which is quite an impressive achievement. I hope to see many more innovative inventions that think outside the box. Good luck to everyone!"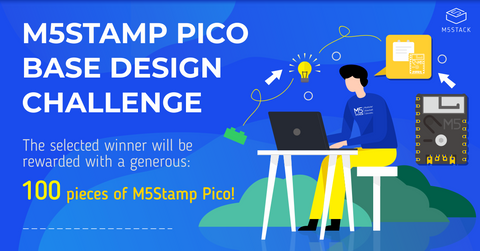 About M5Stamp Pico
M5Stamp Pico is M5Stack's new cost-effective 'plug-and-play' ESP32 miniature module. It features an ultra-compact design with two low-power Xtensa® 32-bit LX6 microprocessors at 240MHz on a PCB as tiny and delicate as a postage stamp.
It is ideal for any space-constrained or battery-powered devices such as wearables, home automations, smart sensors, and other IoT applications.
Product link:
https://shop.m5stack.com/products/m5stamp-pico-5pcs?_pos=1&_sid=550feda3b&_ss=r&variant=40279393468588
Requirements
Entrants must describe exactly what they have invented, how they work. The M5Stamp Pico Base/Extensions you designed must meet the following requirements.
The invention must be compatible with M5StampPicoand M5Stack's ecosystem.
The submission must include a prototype design,relevant images and videos, and it has to be shared as an open source project.
M5Stack reserves the rights for mass production based on the winner's design.
How to submit
Open internationally,Please email Support@M5Stack.com to submit your project, only one winner will be awarded. If your project is selected, we will contact you for give-away 100 pieces M5Stamp Pico!
Specified hardware
M5Stamp Pico
**This campaign is open two months for submission (till December 10th), if there is a change, the time frame will be subject to the further announcement